Our Menu
Our food is extensive - brunch, lunch, salads, pies, sandwiches. It's nutritious and fresh and made on our premises by our talented staff. Whether you choose to dine in, or grab takeaway, we have you covered.

Coffee beans are roasted by Little Marionette. We make our own chai. It is preservative free, has 7 spices, and organic first flush black tea, sourced from the Assam region of India.

We also make our own bircher muesli, granola, iced tea, fresh juices and almond milk.

We are fully licensed and serve wine and beer.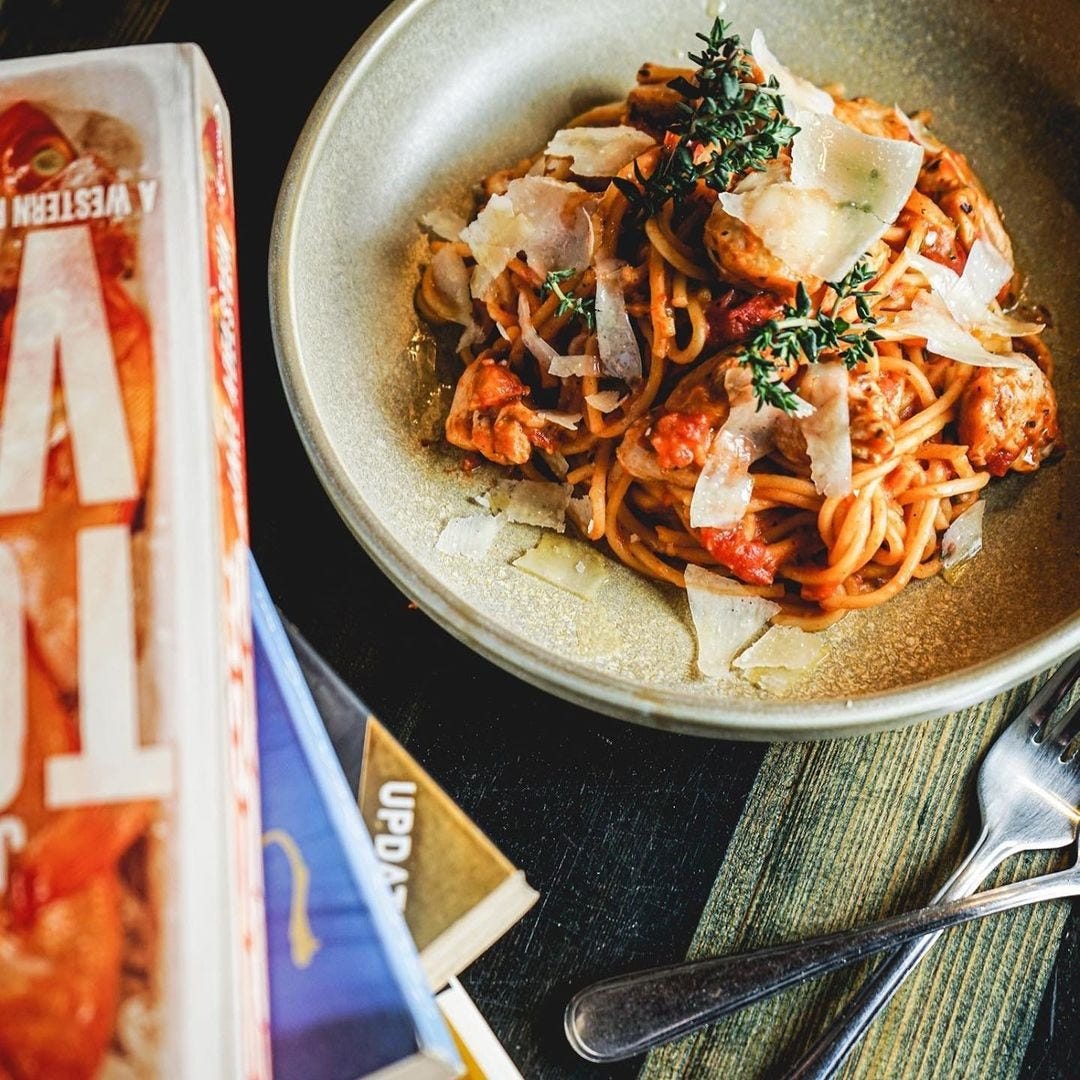 Breakfast
AMPERSAND'S BENEDICT MENU
Two poached eggs, hollandaise, spinach, sourdough (V) 14
Add grilled bacon or seasonal mushrooms (v) 4
Add Tasmanian smoked salmon or braised beef brisket 5


SALSA VERDE EGGS & AVO (V) | 18
Poached eggs, avocado, salsa verde, watercress, parmesan, lemon, sourdough
Add bacon or haloumi 4
Smoked salmon 5


PEAR, PASSIONFRUIT & RICOTTA FRENCH TOAST (V) | 19
Whipped ricotta, poached pear, passionfruit, rhubarb compote, fresh berries, almond crumble
Add bacon 4


AMPERSAND BREAKFAST BOWL (V) | 19
Burnt fig & almond bircher, berry & apple crumble, coconut & chai spiced Sticky rice, yoghurt & fruits
Coconut yoghurt + 2


COCONUT, BERRY & CHAI SPICED BLACK STICKY RICE (GF, VGN) | 19
Coconut yoghurt, berry compote, caramelised banana, citrus, toasted hazelnuts


HERBED MUSHROOMS ON TOAST (V) | 19
Sautéed seasonal mushrooms, almond pesto, whipped ricotta, semi-dried tomato, baby spinach, poached egg
Add bacon, avocado, or haloumi 4 | Smoked salmon 5


BREAKFAST YOUR WAY | 12
2 eggs – poached, fried, scrambled, sourdough
SIDES Gluten free toast 2 Extra egg/toast 3 Fresh or roast tomato 3 Avocado, bacon, haloumi, feta, whipped ricotta, sautéed spinach, sautéed mushrooms 4 Tasmanian smoked salmon, Pulled BBQ beef brisket 5


SMOKEY HOUSE BAKED BEANS (V) | 19
House-made baked bean ragu, greens, feta, poached
eggs & sourdough
Add bacon, haloumi or avo 4
Beef brisket 5

Lunch
TURKISH INSPIRED LABNEH EGGS (V) | 19
Poached eggs, fire roast peppers, bursting cherry tomatoes, sumac & cumin spiked labneh, caramelised paprika butter, dukkha, sourdough
Add bacon, haloumi or avo 4
Smoked salmon 5


NOURISHING GRAINS & GREENS (V, GF) | 19
Sautéed kale, zucchini, broccoli, quinoa, avocado, hummus, seeds & herbs
Add bacon, poached egg or haloumi 4 | Smoked salmon 5


GREEN GODDESS CHICKEN SALAD (GF) | 19
Poached breast, salsa verde, gem lettuce heart, green beans, avocado, Parmesan & greens.
Swap chicken for smoked salmon +2


BEEF BURGER I 16
Tasty Cheese, lettuce, tomato, pickle & chipotle dressing, served with potato wedges


BBQ BEEF BRISKET SANDWICH | 18
Cheese, sliced pickles, coleslaw, Russian dressing, toasted sourdough


SOUP OF THE DAY
Seasonally available
Dine in | 13 take away 10


Salads
ISRAELI COUSCOUS SALD I 15
Roasted pumpkin, Israeli pearl couscous, herbs, sultanas, extra virgin olive oil, lemon juice

MEDITERRANEAN GRAINS & LENTIL SALAD I 15
Blanched barely, lentils, toasted almonds, herbs & spices, with yoghurt & honey dressing

ROASTED BEETROOT & FGETA SALAD I 15
Roasted seasonal vegetables drizzled with honey mustard dressing
Dinner
APPETISERS


WARMED OLIVES I 7
House marinated warmed olives


PANFRIED HALOUMI I 12
Haloumi, dried figs, cherry tomatoes, honey sauce


COCONUT CAULIFLOWER TEMPURA I 12
Coconut crusted cauliflower florets with truffle aioli


CHEESE PLATTER I 17
Ash Brie, Roquefort Blue, nut crackers, seasonal fruit & honey


TAPAS BOARD I 18
Potato tortilla, grilled haloumi, chorizo & pintxos


BRAISED CHICKEN SPAGHETTI I 22
Braised chicken spaghetti with a tomato and rosemary sauce

PASTA & RISOTTO


BRAISED CHICKEN SPAGHETTI I 22
Braised chicken spaghetti with a tomato and rosemary sauce


WILD MUSHROOM RISOTTO I 22
Arborio rice cooked with 4 mushroom varieties, fresh thyme and sage


BEEF RAGU PAPPADELLE I 23
Pappardelle pasta with a slow cooked beef and wine ragu, gremolata & parmesan


MAINS


BRAISED CHICKEN & WINE CASSEROLE I 23
Roasted chicken pieces in a mushroom, bacon and wine sauce & creamy polenta


GRIILED SIRLOIN STEAK & TRUFFLE POTATO MASH I 26
Tender sirloin, seasonal greens with truffled mash & jus.


PAN-ROAST FISH WITH PEA & CORN SALSA & HERBED YOGHURT I 26
Seared fish fillet, peas, corn & fennel salsa & herbed yoghurt
SWEETS


HOME BAKED APPLE PIE I 10
Fresh apples encased in a sweet wholemeal sourdough pastry


PEAR & ALMOND TART I 10


GALAKTOBUREKO I 10
Baked custard & filo pie with honey syrup
Add: ice cream I 2
Sweets and Hot Beverages
Muffins – fresh daily | 4.5
Danish Pastry, Almond Croissant | 5
Caramel Slice | 6
Brownie | 6
Cinnamon Scroll | 6
Cronuts, Donuts | 6
Secret Bakery GF Cake selection | 7

COFFEE, TEA & HOT CHOCOLATE
COFFEE
Espresso, Ristretto | 3.5
Cappuccino, Flat White, Latte, Macchiato | 4
Mocha | 4.5
Iced Latte| 4.5
Chai latte: house blend | 5
Turmeric latte on soy | 5
Igloo: double espresso with dash of milk on ice | 5
Cold drip single origin coffee poured over of ice | 6
Iced Chai Latte: natural chai, ice, honey, served large | 6
Add: large, ice, extra shot I 50c soy/almond / oat I 1
Syrup: vanilla, hazelnut, caramel each I 1

HOT CHOCOLATE | 5
With Lindt chocolate
Add: large | 1
TEA - organic | 4.5
Chamomile
English Breakfast
Earl Grey
Egyptian Rose
Hot Lemon & Honey
Jasmine Peppermint
Lemongrass & Ginger
Turmeric & Mint
SEVEN SPICES CHAI I 5.5
House blend with Assam first flush black organic tea
Add: honey I 50c, Soy I 1
Soft Drinks and Juices
CAPI | 4
Sparkling mineral water, lemon soda, ginger beer, lemonade, blood orange, cranberry, grapefruit
WATER FILTERED | 3.2
Original Springs Water
BREWED ICED TEA | 7
Seasonal house brewed tea with berries
FRAPPES | 7.5
Frozen mango, apple juice
BANANA SMOOTHIE | 7.5
Fresh banana, honey, cinnamon, yoghurt, milk, ice
DOUBLE CHOC SHAKE | 7
ICED MOCHA | 6.5
Double espresso, chocolate, ice cream, milk on ice
ICED COFFEE | 6.5
Double espresso, ice cream, milk on ice
COLD PRESSED JUICES
ORANGE JUICE | 7
GINGER NINJA | 8
orange, carrot, fresh ginger
BEET BOOST | 8
beetroot, orange, carrots, ginger
HEALTH KICK | 8
Celery, spinach, apple, lemon
Alcoholic Refreshments
BEER I 9
Stella Artois, Coopers Mild Ale, Coopers Pale Ale, Young Henry's
CIDER | 8
SPARKLING WINE | 10/42
WHITE WINE | 9/38
Selection of Australian white wines: pinot gris, sauvignon blanc, riesling
RED & ROSE | 9/38
Selection of Australian red wines: rose, pinot noir, shiraz, cabernet sauvignon
* a surcharge of 1% will be added to all credit/debit card payment
* a public holiday surcharge of 15% will be added to your bill